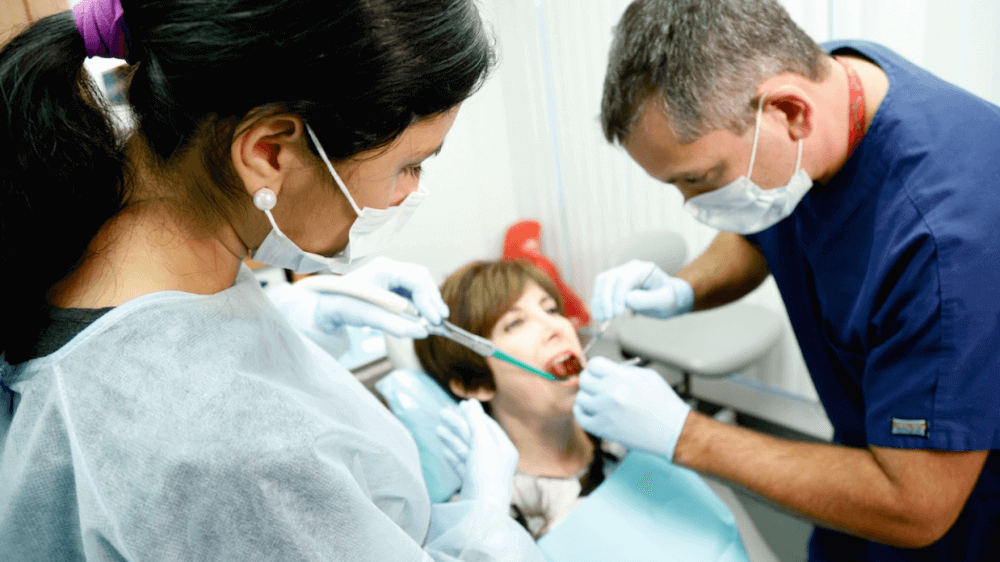 The next best thing to real teeth, dental implants are custom-made to look, feel, and function like your natural teeth so you can be confident in your smile. Your teeth are designed to work together in helping you to chew, speak, and smile. Even the loss of the back tooth may cause your mouth to shift and your face to look older. Fortunately, missing teeth can be replaced with dental implants while providing better lifelong value than conventional teeth replacement alternatives.
Are You A Candidate For Dental Implants?
If your overall oral and general health is essential to your lifestyle, then you might be an ideal candidate for dental implants. Dental implants replace problematic, missing, broken, or severely damaged teeth. This surgical procedure includes the placement of titanium alloy posts in your jawbone to stimulate your natural tooth root. Dental implants can restore your missing tooth or teeth with an implant-supported crown, bridge, or denture. With proper care, maintenance, and regular dental visits can help assure that dental implants will work for a lifetime. Dental implants are also a great alternative if you are tired of loose restorations or the hassle of removable dentures.
Types Of Dental Implant Procedures
Depending on your precise condition and the type of implant chosen, our professional Prosthodontist, an expert specifically in this area, alongside with our dental team of experts, will construct a treatment plan tailored to meet your needs.
Replacing a Single Tooth
One implant and a crown can replace a missing tooth. This procedure usually takes about 15 minutes for implant placement, even when pulling the tooth beforehand. Then once the implant has healed and secured a permanent crown will be placed on top of the implant.
Replacing Several Teeth Implant-supported bridges can replace several teeth.
Replacing All of Your Teeth
A non-removable implant-supported full bridge or full denture can replace all your teeth, giving you a smile in one day. Unlike traditional dentures, All-On-4 implants provide a secure hold and functional smile without the inconvenience of sticky adhesives — a hassle-free option without the limitations of removable dentures.
Four Reasons Why Dental Implants Are So Popular
1. A Natural Fit
Dental Implants are precisely designed to look, feel, and function like your natural teeth. Along with giving you the confidence to smile, eat, laugh, and engage in social activities without feeling self-conscious about how you look or wondering if your dentures will fall out.
2. Reliable And Long-lasting
Success rates of dental implants vary, but, in general, dental implants have a success rate of up to 98%. With proper care and maintenance, dental implants last as long as conventional restorations on teeth, without unpredictable outcomes. Unlike bridges and dentures, implants may last you a lifetime without the need to replace them every seven to ten years. Without needing to replace them, this makes dental implants an affordable option in the long run.
3. Improved Ability To Eat And Chew
Replacing missing teeth with dental implants allow you to chew your food better and speak more clearly. Implants are anchored in your jaw bone, just like natural teeth. They help preserve the jaw bone and significantly reduce the chance of any bone loss.
4. Improved Facial and Bone Features
Dental implants preserve the bone and remarkably reduces bone deterioration that results in loss of jawbone height while restoring the structure. Implants preserve natural tooth tissues by avoiding the need to cut down neighboring teeth for conventional bridgework. Also, with dental implants, we place a post into your jawbone that signals your body to maintain the bone, thus ceasing bone loss.
Because of all of these advantages, dental implants provide exceptional long-term value and can be an excellent investment for your future oral and general health. It is a top-notch option with a prominent success rate for replacing missing teeth that is simple to maintain and long-lasting. Our experienced team of dental professionals will guide you through the process, starting with a free consultation or a free 2nd opinion consultation, so you know your options and whether or not you are a candidate for dental implants.
SEDA Dental offices can be found in cities throughout South Florida including Jupiter, Boynton Beach, Delray Beach, Boca Raton, Pompano Beach, North Miami Beach and Pinecrest. Book your appointment today or visit our Facebook page to learn more.
Tooth be told, we love all our patients and look forward to meeting you at the office of your preference. SEDA Smile, SEDA Difference, Seda Dental.