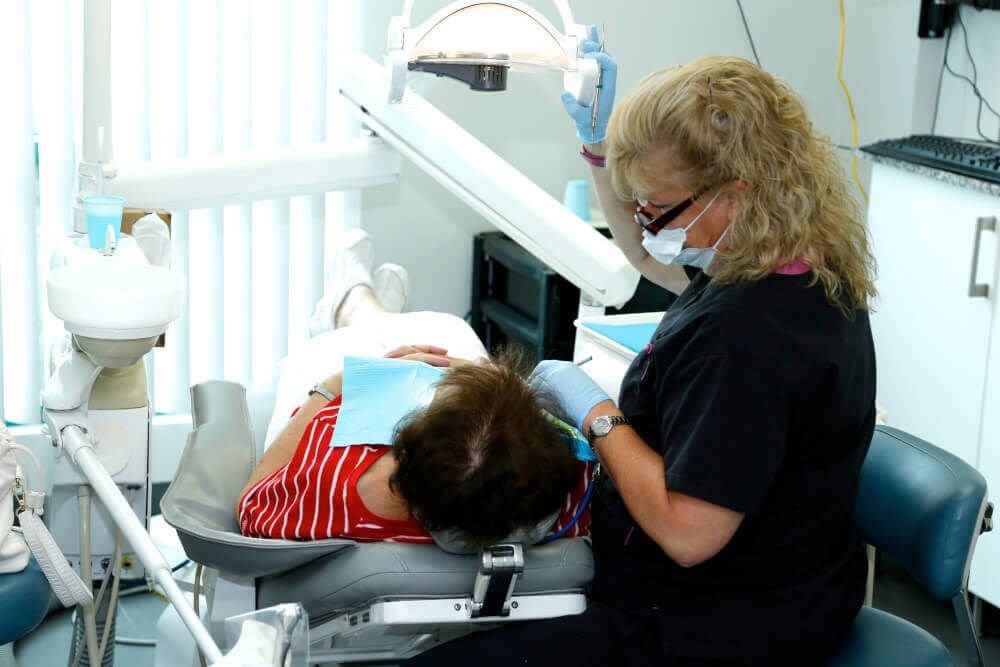 Regular visits to your Dental Hygienist are incredibly vital because they keep your teeth and gums healthy while detecting any early warnings. While flossing and brushing at least three times a day seem like it's enough, it is NOT. A thorough examination and cleaning is crucial for a healthy fresh mouth and will also save you money in the long run. Achieving a Hollywood-fabulous smile with excellent dental hygiene and gum health can become a reality by visiting your Hygienist.
Seven important reasons to visit your hygienist regularly:
1. Stop Gum Disease
Bleeding gums, bad breath, and loose teeth is the outcome of gum disease with a poor daily dental routine. A dental hygienist's top priority is preventing this from happening. When caught in time, it can be treated, stopped in its tracks, and even reversed. An early sign of gum disease is blood in your saliva after flossing and brushing. Having an excellent oral hygiene schedule is suitably not enough, visiting your hygienist twice a year is crucial for a complete cleaning of the teeth and gums. With the removal of hard deposits like accumulated tartar and plaque, a hygienist can clean the difficult-to-get parts in your mouth, which is something you cannot do at home.
2. Prevent Tooth Decay
As plaque builds up and slowly ruins your teeth, visiting your dentist twice a year can prevent tooth decay from happening. Tooth decay is simply the destruction of the outer layer of your teeth from sugary foods. This condition can cause pain, dental cavities, and strongly irritate the gums if left untreated.
3. Prevent Plaque
There are many causes of plaque buildup, including not brushing or flossing your teeth at least twice a day. Plaque is a sticky deposit that adheres to your teeth and gum line and contains thousands of harmful bacteria. Discoloration of the teeth begins when plaque accumulates, which then results in tartar. Visiting your dental hygienist twice or sometimes three times a year prevents this from happening by removing all buildup and leaves your teeth in a cleaner, healthier condition.
4. Early Warning Detection
Not only does your Dental Hygienist clean your teeth and gums, but dental cleanings are also about examining the mouth for any trouble areas. Checking for early decay,
defective fillings, infections, and most importantly, oral cancer. Early detection of oral cancer increases the chance of getting cured before it's too late. It is always better to be safe than sorry.
5. Sweet Breath
Biannual visits to your hygienist and having healthy oral hygiene is crucial for fresh breath. Halitosis, also known as bad breath, is caused by an easily-fixable dental issue. When bacteria hides under the gum line, it creates a smelly oral odor, and simply brushing or flossing at home does not do its job for a sweet fresh breath.
6. Save Money in the Future
Regular care and maintenance of your teeth reduce the chances of developing dental issues like tooth decay or gum disease. Identifying oral related problems could save you money in the long run. You can avoid expensive treatments and unexpected bills by simply visiting your dentist every four to six months.
7. A More Confident You
Nothing beats the feeling of a healthy, clean mouth. Having whiter or less stained teeth and fresh breath will make you feel great while boosting your confidence level. You want to be able to smile and laugh without being self-conscious about your breath or the color of your teeth. Regular visits to your hygienist mean they will give you the information you need for a beautiful, healthy smile.
Book your Appointment NOW!
SEDA Dental offices can be found in cities throughout South Florida including Jupiter, Boynton Beach, Delray Beach, Boca Raton, Pompano Beach, North Miami Beach and Pinecrest. Book your appointment today or visit our Facebook page to learn more.
Tooth be told, we love all our patients and look forward to meeting you at the office of your preference. SEDA Smile, SEDA Difference, SEDA Dental.