Are you thinking about getting dental implants in Pompano Beach? SEDA Dental offers a revolutionary procedure known as Teeth in a Day, which make it possible to restore your entire smile in the least time possible.
Teeth in a Day is a safe and predictable procedure, especially when you're seeing one of our SEDA Pompano Beach implant specialists. The All on Four process allows you to restore all of your upper or lower teeth with a permanently affixed, hybrid appliance.
With an All-on-4 "denture", you get to enjoy a slimline, U-shaped appliance that is directly attached onto four strategically placed implants in your jaw. The same day dental implants offer:
Improved stability and security
A more comfortable fit
Lower implant cost than multiple, individual implants
Nothing to take in and out
No bulky appliance
Easier to talk and eat with
How Does it Work?
Our Pompano Beach implant dentist will place about four implants in your jaw, where your bone is healthiest and strongest. Their integrity is enough to support the weight of a full-arch, hybrid denture that's shaped more like an extended bridge.
Over time, your new implants will integrate with the bone to become permanently fused in place. Once your mouth is fully recovered, we'll update your All on Four restoration with a permanent version that's adjusted to your unique oral anatomy.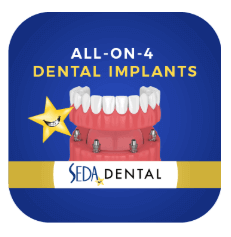 Cosmetic Dentistry to Replace Missing Teeth
When it comes to durable restorations that look and feel great, dental implants Pompano Beach are the best solution. Implants for missing teeth make tooth replacement more predictable and successful, often lasting for the rest of your life.
For the best implant dentist in Pompano Beach, call SEDA Dental today. Our network of general practitioners and implant specialists are committed to providing the best experience for you and your family!