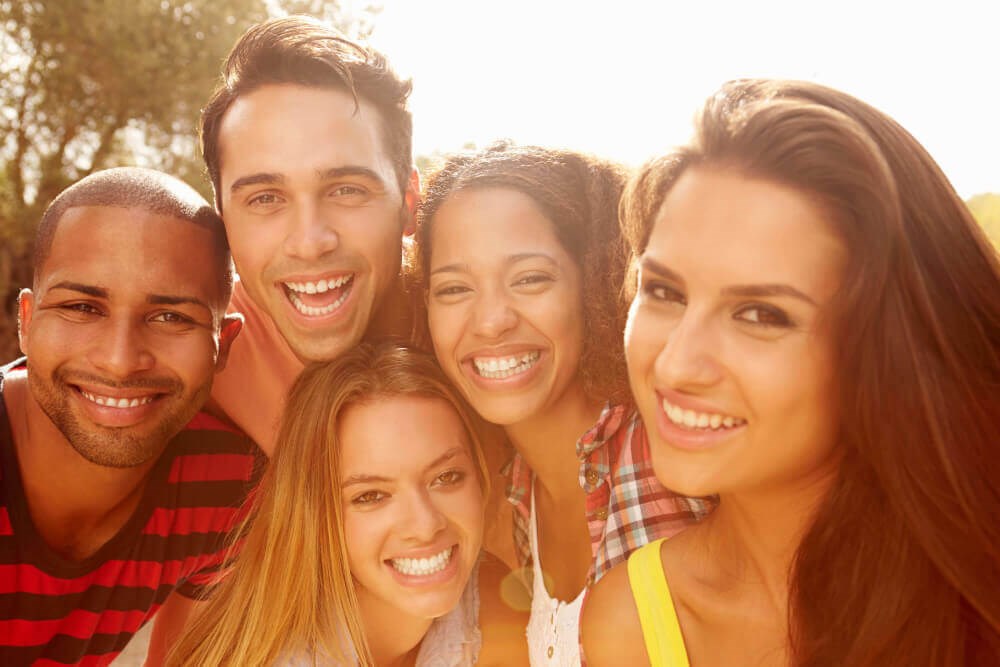 Millions of Americans suffer from tooth loss. The reasons range from tooth decay and periodontal (or gum) disease to an injury or traumatic impact to the mouth. It used to be that if you were missing a tooth (or teeth), the only treatments available were bridges or dentures. However today, thanks to advances in dental technology and treatments, dental implants are changing the way missing teeth are replaced and are giving men and women something to smile about once again.
In the simplest of terms, dental implants are like replacement tooth roots. They provide a strong foundation for permanent replacement teeth that are made to match your natural teeth. The technology is so advanced that often times, no one knows you ever had any missing teeth to begin with and that your missing teeth have been replaced by implants.
The skilled dentists at SEDA Dental of Pompano Beach have the experience and know-how when it comes to dental implants. Our dedicated team can determine if you are a good candidate for dental implants, explain the steps behind this innovative dental procedure, and provide step-by-step post-care instructions to have you smiling again in no time.
What are dental implants?
Dental implants have become a popular choice among Pompano Beach, FL men and women who are missing one or more teeth and need to regain the ability to chew properly and more effectively, as well as enhance the appearance of their smile.
A dental implant is a replacement tooth, complete with a crown and a root. The visible part of the implant that is seen when you talk, smile, or eat is designed to look and function just like a real tooth. The implant itself is rooted into the jaw. After an implant is surgically placed, the implant fuses into the jawbone, similar to how a tooth root acts, stabilizing the tooth and leaving it as strong and functional as a natural tooth.
The crown, or visible portion of a dental implant is created from a dental ceramic that looks natural and is strong and durable to handle the everyday function of the teeth. The post that serves as the "root" is most often made from titanium.
Who is a candidate for dental implants?
Patients who are missing one or more teeth are good candidates for dental implants. Because they are secured into the gums and jaw, they do not slip or move around when you speak, eat or smile. The dentists at SEDA Dental of Pompano Beach will determine if you are a good candidate for dental implants with a thorough exam.
They first need to determine whether enough bone is present in the jaw to support the implant. It may be necessary to undergo a procedure called bone grafting, which is designed to regenerate and restore the bone before implants can be placed. It also is important that the gums be healthy and free of disease.
Dental implants are not recommended for younger patients whose bones are still growing, women who are pregnant or intend to become pregnant in the near future, smokers, or other men and women in Pompano Beach, FL who have been diagnosed with a chronic medical condition like heart disease or diabetes, or take certain medications.
Advantages of dental implants
For many men and women in Pompano Beach, FL, the thought of undergoing a multi-step surgical procedure to replace missing teeth seems excessive. But there are many advantages to dental implants and more individuals are coming to the skilled dentists at SEDA Dental of Pompano Beach to regain their smile. Advantages of dental implants include:
Improved appearance. Dental implants look and feel like your own teeth. Because they fuse with bone, they become permanent.

Improved speech. When you have holes in your mouth from missing teeth or poor-fitting dentures, men and women sound like they are mumbling or slurring their words. Dental implants allow you to speak clearly without a lisp or worry that dentures might slip or fall out.

Easier eating. Missing teeth or dentures can make chewing difficult. Dental implants function like your own teeth. You can once again eat your favorite foods in public without pain.

Improved self-esteem. Dental implants give men and women in Pompano Beach, FL a reason to smile again. No more hiding behind a closed mouth. And when you smile more, others smile along with you.

Improved oral health. Dental implants don't require reducing or altering other teeth, like with a tooth-supported bridge. That means more of your own natural teeth are left intact, improving long-term oral health. Dental implants also allow for easier access between teeth for brushing and flossing.

Durability. Dental implants are durable and can last for many years. For many patients who take good care of their mouths, implants can last a lifetime.
How are dental implants placed
The dentists at SEDA Dental of Pompano Beach will administer a local anesthetic, which numbs the area where the dental implant surgery is to be performed. A pilot hole is drilled to hold the metal implant post and its alignment is checked. After the implant post is secured and sealed with sutures, the area must be left to heal for several months. While the dental implant integrates into the gums and jawbone, a temporary cover will be placed over the implant. Once the implant is strong enough, a permanent restoration will be connected to the implant and adjusted to fit comfortably. With proper care, dental implants can last a lifetime.
Post-surgery recovery
After your dental implant procedure, there may be some short-term inflammation along with minor discomfort, bruising, and minor bleeding. After your dental implants are integrated and your final restoration is connected, it's important to maintain a good oral care routine at home of daily brushing and flossing. Schedule annual exams and bi-annual professional cleanings at SEDA Dental of Pompano Beach so our team can evaluate the health of your mouth and the fit and function of your dental implants.

Dental implants performed by the experienced dentists at SEDA Dental of Pompano Beach restore full function, form, and health to the mouths of men and women in Pompano Beach, FL affected by missing teeth. To learn more about the transformative power of dental implants, contact the office of SEDA Dental of Pompano Beach today.